PADABHYANGA
AYURVEDIC THERAPY
PADABHYANGA AYURVEDIC THERAPY
Padabhyanga hails from Ayurveda meaning foot massage. It revitalizes, calms and balances various disturbances of the autonomic nervous system.
It focuses on 5 marmas out of the 107 marmas that are locate in each foot and releases the negative energy from them. Sesame oil—a powerful antioxidant is most commonly in this process, as it gets easily absorbed and nourishes the skin. Ayurveda treats every patient as a unique subject, in some of the cases medicated oil or medicated ghee can also be used.
Benefits of Padbhyanga Ayurvedic Therapy:
Relaxes tired feet and legs – particularly for those with a lifestyle that tires the feet.
Prevents the occurrence of corns over the feet
Is a massage with oil, which is why it is so very nourishing and moisturizing.
Relieves stiffness along the arch of the foot
Allays the Tired feeling or restlessness experienced in the foot
Improves your circulation, which addresses the numbness in the feet.
Softens the texture of the soles.
Tones the muscles of the foot.
Releases heat and makes you feel calm and cool, relaxed, refreshed and yet revitalized.
Absolutely Natural. There are no electronic gadgets, batteries or any chemical creams or treatments used.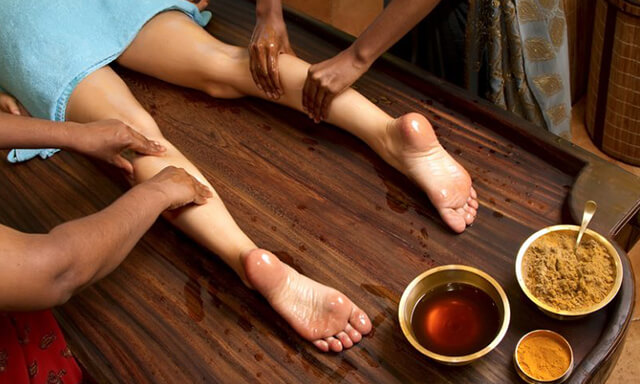 Rohit Jain
@rohitjain007
It's a wonderful experience with very friendly and polite Dr. Anu Jaiswal of course she is well orgniser and well experienced person and the staff is also well trained, very caring and very friendly. I wish to visit again the clinic and enjoy the treatment. Thanks to everyone.

Ipshita H S
@GoogleUser
Vedic sutrra is led by a kind and patient doctor and a team of competent and well trained therapists. Through Marma therapy my back and knee pain was completely healed. It is excellent for stress management too. Completely rejuvenates the body and mind.

Dr SPS Oberio
@GoogleUser
Vedic Sutrra Wellness Center - Great place to unwind and indulge in mesmerizing activities ranging from high rated yoga under expert hands to healing treatments. The soothing ambience keeps you spellbound. Trained and experienced doctors suggest the best treatments.

Internation Patient
@korea_pia
Excellent and unique center for holistic healing. Last year while visiting india office friend ,gifted one ayurvedic therapy of 2 hr at this center. Enjoyed this therapy and enrolled for three more .Observed lot of health benefits all muscle pains completely vanished and body n skin was rejuvenated.