Hello pretty ladies out there as it is winter season now our skin gets dry, patchy, flaky and itchy. I know because it happens to me as well in winters. My face gets dry, my lips start to crack and my hair gets all flaky.
Now why does this happen? It is because in winters the drier the air, the more moisture it sucks from your skin making it dry and flaky. This dry skin needs an effective lubricant to rehydrate it.
This change in season doesn't just call for different wardrobe but also change in your skin care routine. Before I give you few home face packs I would point out few tips you need to take care of during this winter season.
Short showers and short bath once a day with lukewarm water
Apply moisturizer immediately after bathing or washing hands
Don't scrub or sponge brush on your skin
Apply sunscreen this is not just for summer months but also through winter to protect your skin from harmful UV rays
Stay hydrated drink lots and lots of liquids to help prevent your skin from sagging
Home face pack to combat dry winter skin
Lemon Honey Solution
Both these ingredients are easily available in kitchen.
Take 1 spoon honey and half lemon. Mix in a bowl and apply this pack on your face. Leave it for 10-15 minutes and then wash it.
If we talk about the ingredients here
Honey has a lot of health benefits. It has antioxidant and anti-aging properties. Controls moisture in your skin and glows your skin.
Lemon is a natural bleaching agent.
Note: Do not apply lemon directly on your face as it will burn your face. Due to the presence of citric acid in it.
Banana and Honey Solution
Take a piece of banana and 1 spoon honey. Mix them properly into a paste and apply on your face. Leave it for 10-15 minutes and wash it.
Benefits of honey I have already mentioned above. Banana has anti-aging property. It treats acne, lightens dark spots and also it is a good skin moisturizer.
Try any of these packs for a week to see very relaxing, soothing and moisturizing effect on your skin.
Good luck ladies and have a beautiful and happy skin this winter.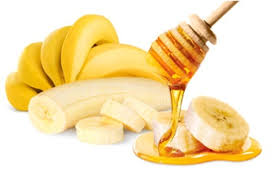 After applying these packs to your face you can use any moisturizer. Apply these packs at night so that you wake up with healthy and glowing skin.
Our natural skin care treatments and program, we use ingredients available in nature. Much of the plant-derived ingredients, which may include herbs, roots, flowers and essential oils are very helpful in skin rejuvenation and maintaining natural health of the skin. We offer many skin care program for all skin type, our Ayurvedic consultant  first examine the skin type and recommend the best possible treatments.